We are a medical technology company born in 1966
Using a diving equipment as an inspiration, Ernesto Mañá, a Pulmonologist and Thoracic Surgeon, and his brother Luis Mañá, combined their knowledge to create a device to support life and aid pulmonary ventilation in patients with different types of respiratory failure.
They did not know that this invention would set the foundations of Tecme. While Ernesto planted the seeds of passion for life, Luis contributed the importance of creativity and innovation in a company that would not stop growing.
1966
First successful prototype trial on a patient

In 1966, and after several tests and adjustments, Dr. Mañá carried out the first prototype trial successfully conducted on a human patient, at the Surgery Service of the Department of Phthisiology and Thoracic Diseases of the National University of Córdoba (Universidad Nacional de Córdoba), one of the most prestigious universities in Argentina, within the Hospital Tránsito Cáceres premises.

1967
The pressure cycling Neumovent D-III manufacture begins

After the success of the prototype, the Mañá brothers began manufacturing the Neumovent D-III model in small series, followed by the D-IV; both devices with pressure cycling technology. Our company then began to produce ventilators for hospitals throughout the country, thus increasing the possibility of acquiring this type of device in those sectors furthest away from the city of Córdoba.
1970: The Neumovent D-VI, a volumetric type is born
Around the end of the decade, the scientific journal The Lancet published the description and treatment of adult respiratory failure syndrome, a very serious condition that causes severe hypoxemia and a high mortality risk. As a result of these new studies, the need for another type of ventilation that these small positive pressure devices could not provide arises. Therefore, the concept of volumetric ventilation appears worldwide. It is a mode in which the volume received by the patient is guaranteed and stable with any respiratory mechanics. In addition, positive end-expiratory pressure (PEEP) is introduced, a technique that prevents alveolar collapse and improves oxygenation in these patients. In this context, our company developed the Neumovent D-VI, a volumetric-type ventilator manufactured until 1977, which is considered a major advancement for the time. The 877, 910, 980, and 900 models, all with volume cycling, were developed in subsequent years.
1977
Breakthrough times
During this period, the growth is continuous and it becomes necessary to move to a larger and more comfortable building. Likewise, our staff also increases and the production plant increases to 15 workers. During these times, we launched the Neumovent 877 on the market, a much more compact volumetric ventilator, with an innovative design in which all the pneumatics are no longer visible and are placed inside a cabinet.
1988: Our first production plant opens
Twenty-two years after the first prototype was created, sustained growth forced us to be relocated once again. Thus, we settled in a production plant with a surface area of 1000 m2, built especially for the manufacture of our ventilators. At the same time, it was necessary to increase our production staff, and the payroll increased to 40 workers.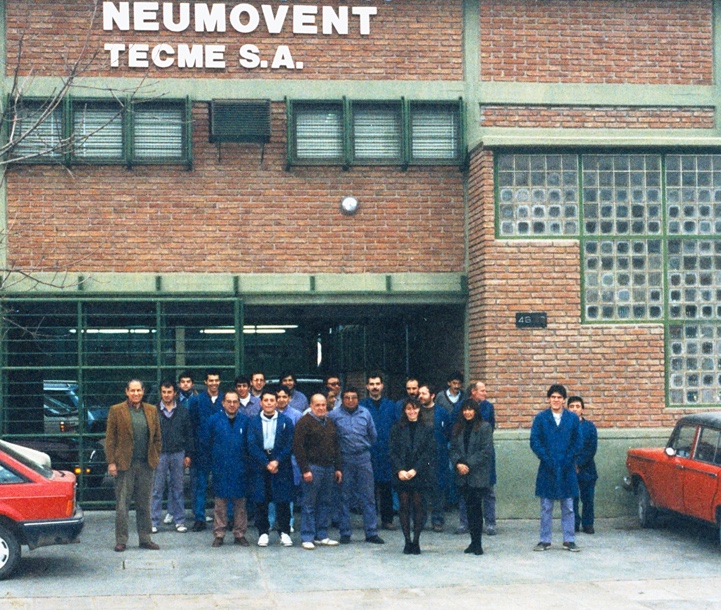 1990: First ventilator created specifically to support the life of neonates
At this time, and through our company's permanent contact with clinical specialists, we notice the need of a ventilator that can provide life support to the weakest patients. Therefore, we launched what will be our first ventilator 100% dedicated to neonatal patients: the BEBE, a pneumatic-based device, but with a lot of electronics in its operation. This would be the kickoff in the manufacture of devices for neonates. Years later, this device would evolve into our current Neumovent Neo ventilator, which plays a central role in Neonatology Units around the world and is used to ventilate premature babies with a very low body mass index.
1997: Graph generation ventilators, controlled by means of a microprocessor
Around the end of the 20th century, information technology broke into almost all aspects of our lives. The microprocessed or third-generation ventilators emerge worldwide. This phenomenon is not strange to us. In 1997, after tireless research and development, we presented our first microprocessed device: the Neumovent Graph. Through this new generation of ventilators, a single device could perform functions that previously required the use of more than one device.
2003: Quality Management System with ISO 13485 certification
In 2003, we managed to obtain the ISO 13485 certification for medical devices to ensure manufacture excellence for each of our ventilators based on our own internal research and technology.
2007:
GraphNet launching

In 2007 we launched the GraphNet, a ventilator with a new and more powerful microprocessor, 12" screen, and a general control knob.
Among other improvements, this new device incorporates volumetric capnography that allows the automatic measurement of dead space, a function that until then required a lot of time and effort.

2008
Our headquarters opens

The rapid growth of the company, driven by an increase in the national and international commercial presence, results in the need for a new expansion of the production plant.
With a surface area of 3400 m2 and fully prepared for further growth, we moved our entire production plant to a new building located in the main industrial area of the city of Córdoba, Argentina.
Hand in hand with this growth, the number of collaborators increases to more than 110 workers.

2011
GraphNet Advance, Neo, and TS

Hard work and the desire to continue improving our devices led us to create a new family of ventilators, giving the GraphNet line a twist. Thus, Advance, Neo, and TS devices arise, which, among other improvements, include touchscreen technology.
2011: CE and FDA Certification
Advance, Neo, and TS ventilators would be our first products with CE marking certification from the European Community and 510(k) cleared from the FDA.
2015: New production plant in Atlanta, USA
With the strategic aim of optimizing the distribution of our ventilators, we expanded and opened a new headquarters in Atlanta, in the United States. With 929 m2, this plant allows us to distribute our devices in different markets around the world, complying with the highest international quality standards.
2020: Role in the COVID-19 pandemic
In March 2020, our activity becomes highly relevant in preserving the health of thousands of people, leading us to assume a great responsibility in the face of the advance of the COVID-19 pandemic. The intrinsic quality of our life-supporting devices faced us with the enormous challenge of rising our production by 300% in record time to meet the urgent need of health centers, having to increase our human team, and once again expanding our facilities.
2023: New family of ventilators launched: Brina
After continuous research, we took a leap in the development of our devices and launched a new family of advanced ventilators into the market. Brina has a modular design, 18″ touch screen, and a dynamic and intuitive interface. In addition, it offers customized monitoring parameters and ventilatory tools adapted to the needs of each patient.
We are driven by our commitment to life, and our passion for people is what leads us to continue growing.
It has been more than 56 years since the Mañá brothers first put into operation the first ventilator prototype created in the garage of their home, giving rise to what would become Tecme. Since then, our company has not stopped growing: we have expanded our offices to the city of Buenos Aires and to other countries, such as Brazil and the United States, and we have established ourselves as one of the most reliable brands of mechanical ventilation devices, chosen by intensive care providers in more than 60 countries. We know that none of this would have been possible without the talented, committed, and creative people that make up our team.
The commitment to life is not just a promise -it is the engine that drives us to continue growing.
55+ years of experience committed to innovation and patient care.
Córdoba - Buenos Aires - Atlanta - São Paulo