Tecme's annual Sales and Technical Support training for our distributors in Africa and Middle East.
---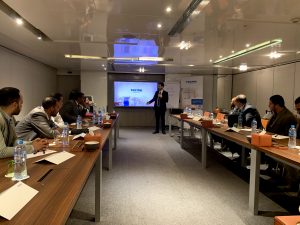 From June 16th – 20th, our company held the annual sales and technical support training session for our distributors from Africa and the Middle East. Our distributors from Egypt, Kenya, Togo, Ethiopia, Jordan, Bangladesh, Saudi Arabia, Sudan and Sri Lanka participated in the training.
The meeting took place in the city of Cairo, Egypt and the topics addressed were the following:
Sales.

Technical Service.

Updates on software features.
The annual meeting allowed our product specialists and sales team to visit with our local Distributor several hospitals in Cairo, such as the Ain Shams University Children Hospital, where we conducted a demonstration of our GraphNet neo ventilator. 
This event strengthened Tecme's position and growth in Egypt and the region. We would like to thank and congratulate all the people who took part in this event and for their constant commitment!